Chewy Chocolate Chip Cookies
Posted by Vanessa in
Cooking
, April 19, 2013
Even though I already have one chocolate chip cookie recipe on the site (which we love), it does take some time so I usually only make those every once in a long while.  But this recipe here, it's my go-to for The Phoenix's favorite cookies.  I like that I can mix up the dough and just have it in the fridge over the course of a day or two and bake off a few whenever we want some fresh out of the oven cookies.  I bet it would freeze well too, but it's never lasted that long for me to find out.  Oh, and the amount of dark brown sugar in here, it's magical.  It's easy, and delicious!  Give 'em a try, man.
Chewy Chocolate Chip Cookies
recipe from Food Network Magazine, March 2012
Details

Prep Time: 20 minutes.
Cook Time: 12 minutes.
Ready in 32 Minutes.
Makes: 30 Pieces

Ingredients

2 3/4 cups all-purpose flour
1 teaspoon kosher salt
1 teaspoon baking powder
1 teaspoon baking soda
2 1/2 sticks butter, softened
1 3/4 cups packed dark brown sugar
1/4 cup granulated sugar
2 eggs
1 tablespoon vanilla
1-2 cups semisweet chocolate chips, depending on how you like your cookies

Directions

Whisk the flour, salt, baking powder and baking soda together in a medium bowl.
Beat the butter, brown sugar and white sugar in a bowl with a mixer on medium-high speed until pale and fluffy (about 4 minutes). Use the paddle attachment for a stand mixer. Beat in the eggs, one at a time, then beat in the vanilla. Reduce mixer speed to low. Add the flour and beat until combined. Stir in the chocolate chips. Press plastic wrap directly onto the surface of the dough and refrigerate at least one hour, overnight is even better.
Preheat oven to 375 degrees. Line 2 baking sheets with parchment paper or silpats. Drop tablespoonfuls of dough onto baking sheets, about 2 inches apart. Bake until the cookies are golden around the edges but still soft in the middle, about 12 minutes. Remove from oven and let cool, or not.
About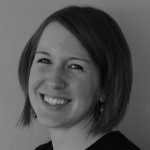 I'm Vanessa and I have quite the soft spot for great food. I am a little bit addicted to trying new recipes and will share all the best ones with you.
Search