Mini Pecan Sticky Buns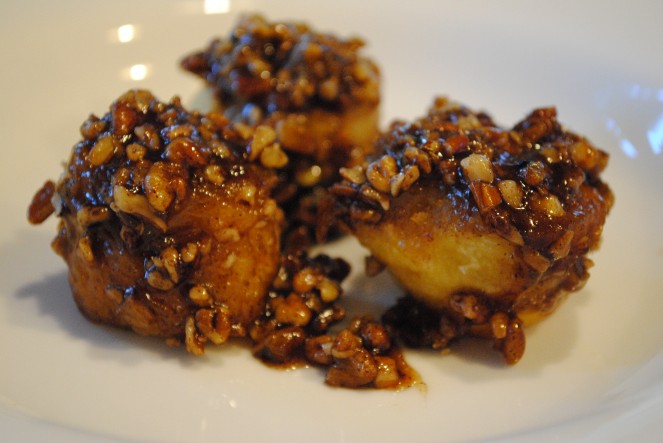 Is there any reason why you shouldn't start your day downing a tube of crescent rolls that are oh-so-generously topped with an amazing pecan-filled caramel?
I didn't think so.
Okay, okay.  I get that these aren't the healthiest way to start your day.  And you probably won't feel like running a marathon after you eat them.  But who really wants to run one of those anyways.  Nobody in my house, that's for sure.  We'd much rather eat these.  And then go take a nap.
But, seriously, for something a little special, maybe when you have guests, this is an easy, quick, totally delicious breakfast to serve.  And your guests might never want to leave…so be careful who you serve these to.
The original recipe called for half the amount of caramel, but I said shame on them.  Who in their right mind wants to eat a sticky bun with an itty bitty drizzle of caramel on top.  Give me a break.  (And, besides, I used reduced-fat crescent rolls to even out the calorie difference.  He he.)
Mini Pecan Sticky Buns
recipe adapted from Southern Living magazine, October 2010 edition
Details

Prep Time: 15 minutes.
Cook Time: 15 minutes.
Ready in 30 Minutes.
Makes: 6 Servings

Ingredients

1/2 cup chopped pecans
1/2 cup butter
1/2 cup firmly packed light brown sugar
4 tablespoons corn syrup
1 1/2 teaspoons ground cinnamon, divided
1 (8 oz) can refrigerated crescent rolls
1 1/2 teaspoons sugar

Directions

Preheat oven to 375 degrees. Bake pecans and butter in a lightly greased 8-inch round cake pan for 2 minutes. Swirl pan to combine, and bake 2 more minutes. Remove from oven and stir in brown sugar, corn syrup and 1 teaspoon cinnamon; spread mixture over bottom of pan.
Unroll crescent roll dough and separate into 4 rectangles, pressing perforations to seal. Stir together white sugar and remaining 1/2 teaspoon cinnamon; sprinkle over rectangles. Roll up each rectangle tightly, starting at 1 long side; press edges to seal. Cut each log into 5 slices; place slices, cut sides down, in prepared pan. (Space slices equally in pan; they will not touch.)
Bake for 14 to 16 minutes or until center rolls are golden brown and done. Remove from oven and immediately invert pan onto a serving plate. Spoon any topping in pan over rolls. Eat while warm!