How To Sew A Square Pillow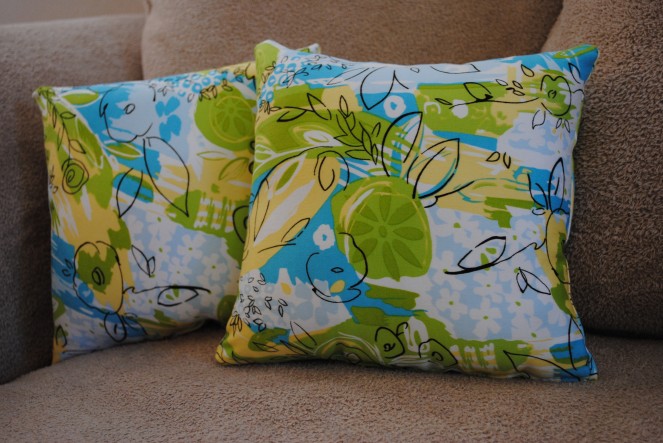 I pretty much never thought this day would come.  This day when I, miss never taken a day of home ec in her life, posts a tutorial using a sewing machine.  So I might not know the right terminology for everything, or anything for that matter, but I can show you what I did, and hope it's helpful to someone.
As we were getting ready to move to our new casa, I was determined to go through absolutely everything and not take one thing into our new house that I didn't love or need.  I didn't quite make it through everything, but almost…and the rest is getting a good working over as we speak.  Anywho, I came across the dress I'd worn for our wedding rehearsal.  Now it's nothing I'd wear again, but I didn't really want to give it away, and thus, my desire to learn how to sew a pillow was born.  (I wish I had a picture to post of me wearing the dress on that day before I married The Phoenix, but sadly I have absolutely no idea where those pictures are.  None.
And now for my attempt at a simple tutorial on how to sew a square pillow.
First, pick your fabric and cut two identical square pieces from it, any 'ol size you want, just remember to leave room for a 1/2″ seam on each side.
Now put one piece directly on top of the other (line 'em up perfectly) with the outside of the fabric on the insides, touching each other.
Fire up your sewing machine and sew around 3 sides of the fabric in a straight line (using a tight stitch, and by tight I mean super close together) leaving a 1/2″ seam.  Go about halfway across the fourth side, then take your foot off the pedal (or STOP!).
Now turn your square right side out.
And stuff firmly.  Really pack it in there!
And now hand-sew up the opening.  That's it!  I mean, c'mon, even I could do it.  Finished pillow, side view:
And so the first wouldn't be lonely, I gave my pillow a mate.  Just like what these pillows now represent to me, when I was so blessed to have someone choose to be my mate.